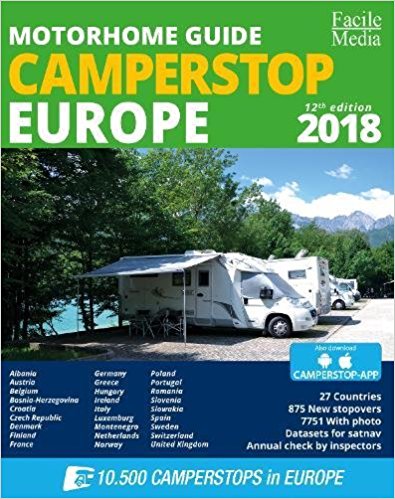 Camperstop Europe is a directory of places throughout Europe where motorhomes may park, stay overnight or fill up fresh water and empty waste water & toilets.
The 12th English edition covers 27 countries with 10500 camperstops listed, and is completely written in English.
At the beginning of the book there is a set of detailed maps for the area covered by the guide. The camperstops are marked and named, an index below each map indicates the page number where information on the stop can be found.
The actual information on each stop is brief but probably sufficient, most entries include the address, GPS co-ordinates, number of motorhomes permitted, type of stopover, cost if any, opening dates, and local amenities are all included. Many of the entries have colour photos. There are no driving directions so really the only way to find the stops is to use GPS. GPS co-ordinates are also offered as a paid download from the publisher's website at www.camperstop.com

 where there is also information on the Camperstop app for iOS and Android.
It is difficult to include so many entries and still keep a relatively compact format to the guide, I did think that the layout was a little too compact - the inclusion of a bit of white space between each entry would improve readability. Also it is often the case that the last entry on a double page spread is split, necessitating turning the page to find the photo and description, this is a layout issue that should be addressed.
This is a very comprehensive listing of motorhome stopovers throughout Europe and would be a useful purchase for the motorhomer who doesn't want to purchase individual country guides, and of course for those travelling to countries where no local guide to camperstops exists.
We are still surprised to see a few places described as 'tolerated place' . Although it is useful to hear of such places, users of them need to be aware that the place may be closed by local authorities and they may be 'moved on' at any time. There is at least a note about this in the introduction.
Users should also be aware that this, and other publications of this type, is a guide and not a "Bible", from personal experience we know that no guide is a comprehensive listing, places develop and rules and regulations constantly change. Most publications of this nature are usually a year out of date since they have to be compiled and sent to press etc. Certainly when travelling users should never rely on any place being available and always have a backup plan of 1 or 2 other options.
2018 review by Andy Clarke
Camperstop Europe 2018 is available from Amazon
 for £17.99 with free delivery in the UK
and from:
Waterstones
Blackwell
Stanfords London and Bristol
Foyles Books
Information from the publisher
Over 10500 motorhome stopovers to discover Europe! 

Over one million motor homes drive through Europe every year. Because of the yearly increasing number of motor homes it becomes more and more important that motor home owners/drivers are well informed about the possibilities of travelling with a motor home. Ignorance concerning matters such as legislation, overnight stops and motor home service points, causes irritation and reduces the fun of travelling with the motor home. 


Camperstop Europe 2018 offers extensive information which is indispensable for each motor home user:
full-color.
10500 motor home stopovers in 27 countries, sorted alphabetically by region.
875 new stopovers
7751 pictures give a clear impression of the stopovers.
Size 22,5 cm x 28,5 cm.

Further key points:
The guide is very simple to use because of a clear classification and maps.
All desired facilities can be found in an instant.
All the stopovers are annually checked by inspectors; GPS-coordinates; overview maps.
Description of the motor home stopover:
Number of pitches, GPS coordinates, prices, surface, distance to village or town/ beaches /supermarket /restaurants /motorway / Public transport etc.
Description of the facilities available:
Fresh water, grey water dump, chemical toilet disposal, electricity, toilets, showers, Wifi, including the prices.
Information of the stopover is completed with addresses and Internet sites of local tourist offices and interesting curiosities/events in the same town.
Information about how to pay (if needed) for service and parking space (cash, bank/credit card, parking meter or collector).
Pointing the distance to walking and bicycle routes (if available).
Link with navigation systems:
On the internet site www.camperstop.com downloads of the GPS-coordinates of the stopovers are available for a small fee. The documents can easily be installed on each navigation system. Since now searching for a stopover is history, the navigation system shows you the way.
Countries covered by Camperstop Europe 2018; Albania, Austria, Belgium, Bosnia-Herzegovina, Croatia, Czech Republic, Denmark, Finland, France, Germany, Greece, Hungary, Ireland, Italy, Luxembourg, Montenegro, The Netherlands, Norway, Poland, Portugal, Romania, Slovenia, Slovakia, Spain, Sweden, Switzerland and United Kingdom.
Paperback: 752 pages
Publisher: Facile Media; 12th edition (31 Jan. 2018)
Language: English
ISBN-10: 9076080542
ISBN-13: 978-9076080543