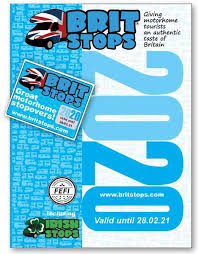 A new edition of the popular membership scheme providing a directory of free motorhome-friendly stopovers in the UK and Ireland has been published. Brit Stops 

 is a membership scheme providing a directory of motorhome-friendly stopovers in the UK and Ireland. Now in its 10th annual edition, the Britstops 2020 guide runs to 352 pages and lists over 1030 locations. Each of the hosts is contacted for the new edition, to ensure that the guide remains as up to date as possible. 
The scheme is simple: Hundreds of country pubs, farm shops, vineyards, breweries, craft / antiques centres, etc. offer an invitation to members of Brit Stops to stay overnight in their motorhome or campervan (caravans and tents are not permitted to use the scheme) in a safe environment - free of charge! The format will be familiar to anyone who uses France Passion, in that hosts welcome visitors to park free of charge for one night. The hosts provide the service in the hope that members staying overnight will patronise their business. As with France Passion there is no obligation to do so, but who could resist a browse around a farm shop or a pint in a country pub! There are also some 'aires' listed, these are, mostly, local authority car parks that welcome motorhomes and campervans to stay overnight - there will usually be a fee, which is detailed in the guide.
The aims of Britsops are twofold, to provide motorhome and campervan tourists a diverse network of enjoyable, safe, places to stop overnight, and to support the best of British local business and producers.
A large proportion of the locations are pubs but there is a range of other places including organic producers, farm shops, vineyards, even motorhome and accessory dealers.
The guide is a professional publication and a lot of effort has gone into making it easy to use. Great Britain is divided in 9 areas: Southwest England, Southeast England, East Anglia, Wales, West Midlands, East Midlands, Northwest England, Northeast England, Scotland. The island of Ireland is divided into 4 areas: Ulster, Leinster, Munster, Connacht. Each section starts with a clear map showing the approximate location of each of the stopovers. Stopovers are listed four to a page, with clear symbols indicating the number of places, whether large motorhomes are accepted, any facilities available such as water or waste disposal, etc. The address, post code and phone number of each location is given, there is a paragraph of information about the hosts, and clear directions to the location.
For 2020 there are over 150 new hosts, and every entry has been checked, and updated where necessary. The layout remains the same as last year, 4 entries per page, 8 to view, which help keep the book relatively compact. There are double page maps at the start of each section to help with journey planning.

The price is £28.00 + p&p, the same as last year and still a bargain - you could easily spend more than that for 1 night on a campsite.
Members also benefit from a monthly email newsletter throughout the year, providing notification of any changes to facilities offered, hosts' details, and any hosts that may close during the year.
Purchasing the guide gives motorhome and campervan users access to all of the listed stopovers until the end of February the following year, when a new edition is published. A windscreen sticker is included to aid hosts in recognising members. Members are asked to abide by a code of conduct, such as checking in with the hosts on arrival and letting them know when leaving, not lighting fires or running generators, etc, all common sense and courtesy really.
The hosts will, in general, just provide a place to park overnight, facilities associated with a campsite will not usually be available. Any additional services are marked in the guide, the only one that may incur a cost being an electric hookup, if available.
Brit Stops is the brainchild of Steve and Mandy Clark, the effort and care which they put into the guide is very evident, and the success of the scheme is reflected in the growth in the number of hosts listed each year.
With their presence at the majority of the UK's outdoor motorhome shows membership is increasing rapidly, strong sales of the guide in Europe mean that visiting motorhomers also have the opportunity to sample the best that Britain has to offer.
We think that Brit Stops is an excellent scheme, giving motorhome users an alternative to campsites, and local businesses an opportunity to attract additional visitors and revenue. At just £28.00 for the year - it's an absolute bargain!
We are pleased to see that Britstops is now a Corporate Member of The Woodland Trust, and is also reducing its environmental impact in several ways, including using vegetable dyes on FSC paper and using a water-based varnish for the cover instead of plastic lamination; paying to ensure that the carbon use in creating the paper used is matched by the planting of new trees; posting the books in a recyclable/reusable paper envelope instead of a polythene wrapper. Well done Britstops!
For more information about Brit Stops visit the website www.britstops.com

Britstops 2020 
Paperback - 352 pages 
Authors: Steve and Mandy Clark 
Published by: On the Road Books Ltd 
ISBN 978 0 9928147 6 2 
Price: £28.00 + p&p
Order this book direct from Britstops

 at £28.00 plus p&p.